Smok Species 230w Kit with TFV8 Baby V2
Please know there will be a delay in despatching this product:
Buy Smok Species 230w Kit with TFV8 Baby V2 | Smok | Mod Kits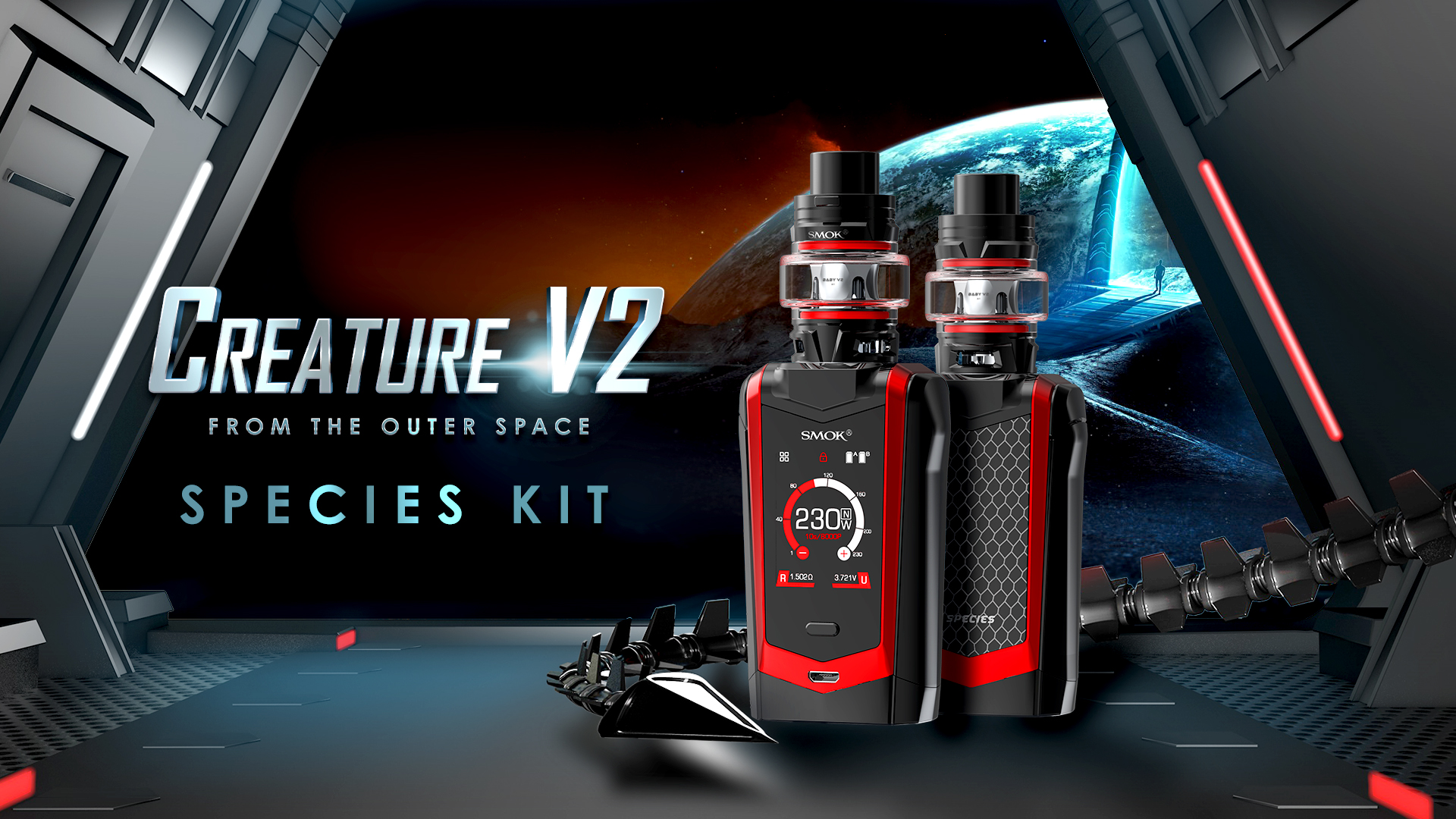 Smok Species 230w Kit with TFV8 Baby V2

Species has a brand new 1.45'', high-definition touch screen with an upgraded user interface to offer you more comprehensive and clearer vaping data. Moreover, the screen locking button ensures safe operation and its 1W-230W output can meet your various vaping demands. Species uses a newly developed TFV8 Baby V2 tank with three powerful coils. Baby V2 A1 Coil with a super large heating area, Baby V2 A2 Coil with dual heating cores and Baby V2 A3 with triple cores! These coils will fully satisfy the vaping fans pursuit of dense flavoUr and massive clouds.
SPECIFICATIONS:
SMOK SPECIES MOD:
Dimensions: 82.1mm x 49mm x 30.6mm
Weight: 155g
Power Range: 1W-230W
Powered By: 2 x 18650 Batteries (Not Included)
Input Voltage: 6.4V-8.4V
Output Voltage: 0.5V-8.2V
Resistance Range: 0.1Ω- 2.5Ω (VW) / 0.05Ω - 2Ω (TC)
Temperature Range: 200ºF - 600ºF / 100ºC - 315ºC
Charging Voltage: 5V
Charging Current: 1.8A
Weight: 155g
Standby Current: <500uA
SMOK TFV8 BABY V2 TANK:
Dimensions: 54mm x 25.4mm
Capacity: 2ml
Material: Stainless Steel
Thread: 510
Weight: 65g
BOX CONTENTS:
1 x SMOK Species Mod
1 x SMOK TFV8 Baby V2 Tank
1 x Baby V2 A1 (0.17Ω Single Coil; Pre-Installed)
1 x Baby V2 A2 (0.2Ω Dual Coils)
1 x USB Cable
1 x User Manual
Spare Parts
8 COLORS AVAILABLE

THE KIT INCLUDES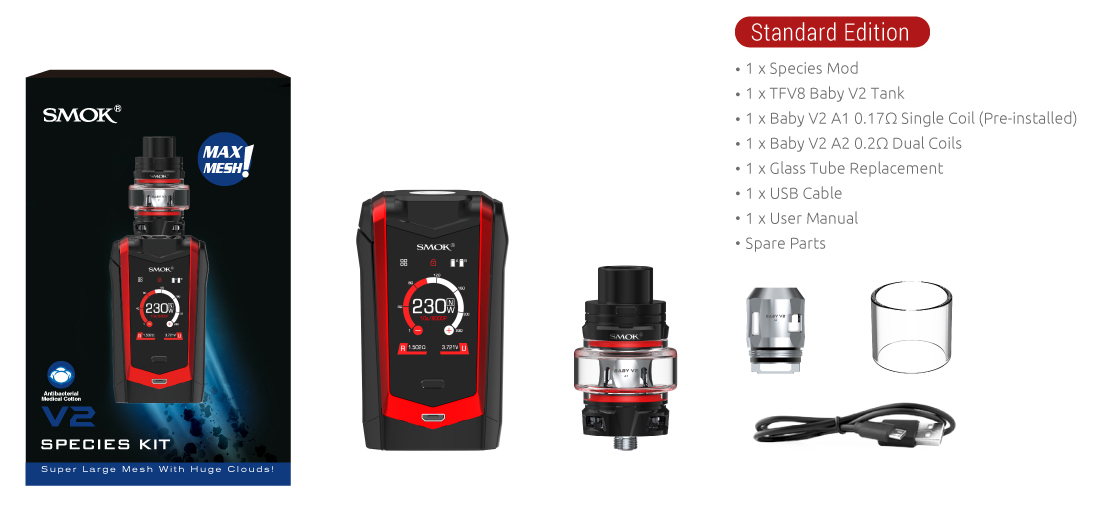 THE COMBINATION OF BEAUTY AND STRENGTH
The colored decorative strips covering on the front and back of the mod are like armor outline of the warriors, perfectly delineating the masculinity of the product. In addition, Species possesses powerful vapor production, with the power output up to 230W, which is definitely the right choice for cloud chasers.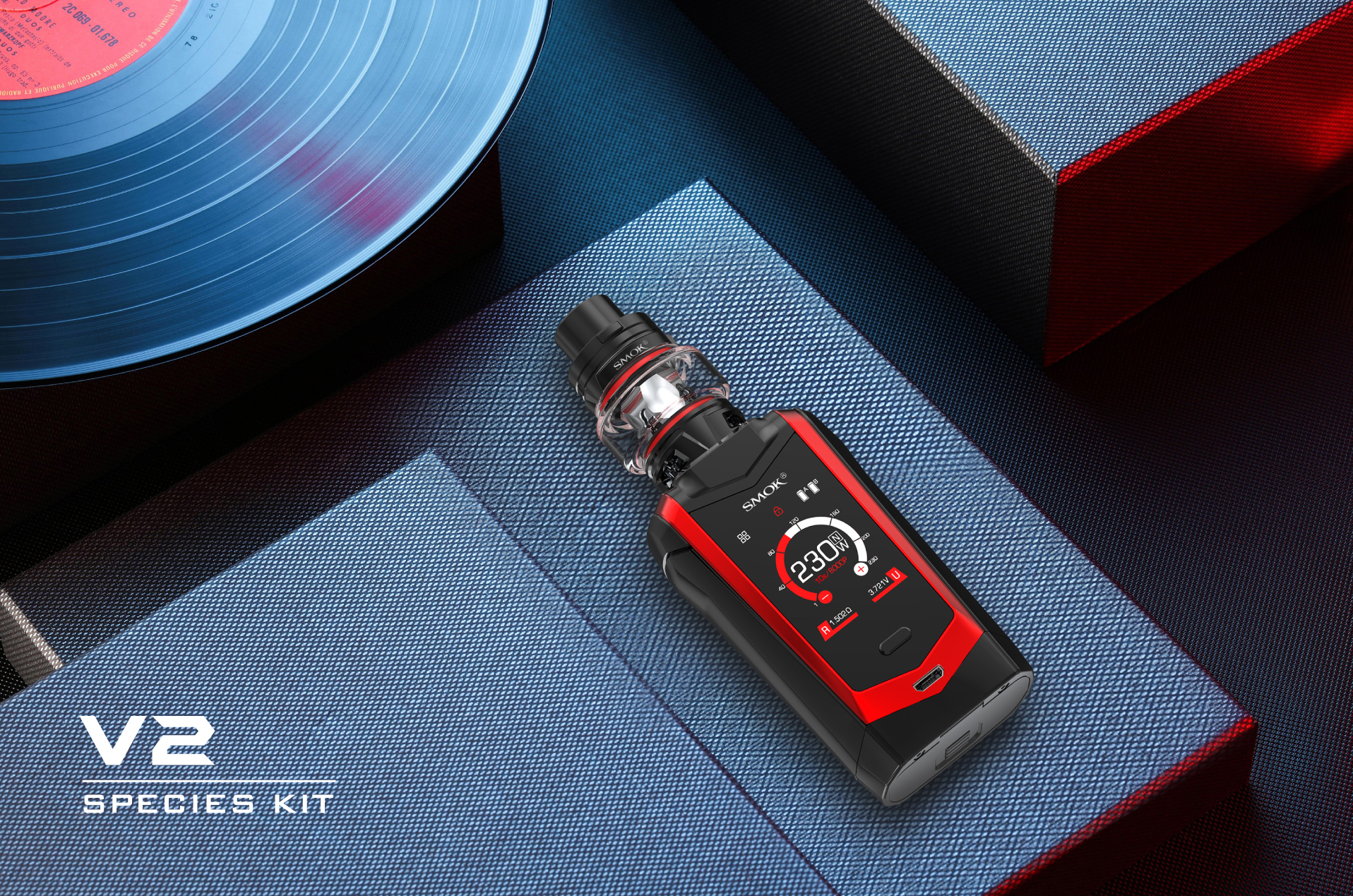 SENSITIVE TOUCH SCREEN LETS YOU
TOUCH THE BRILLIANCE OF TECHNOLOGY
Species owns a newly designed 1.45'' colorful touch screen, which is very responsive, and most of the operations can be finished with a simple touch. Newly upgraded UI can offer you more clearly and detailed vaping information. There are 6 colors available for screen setting.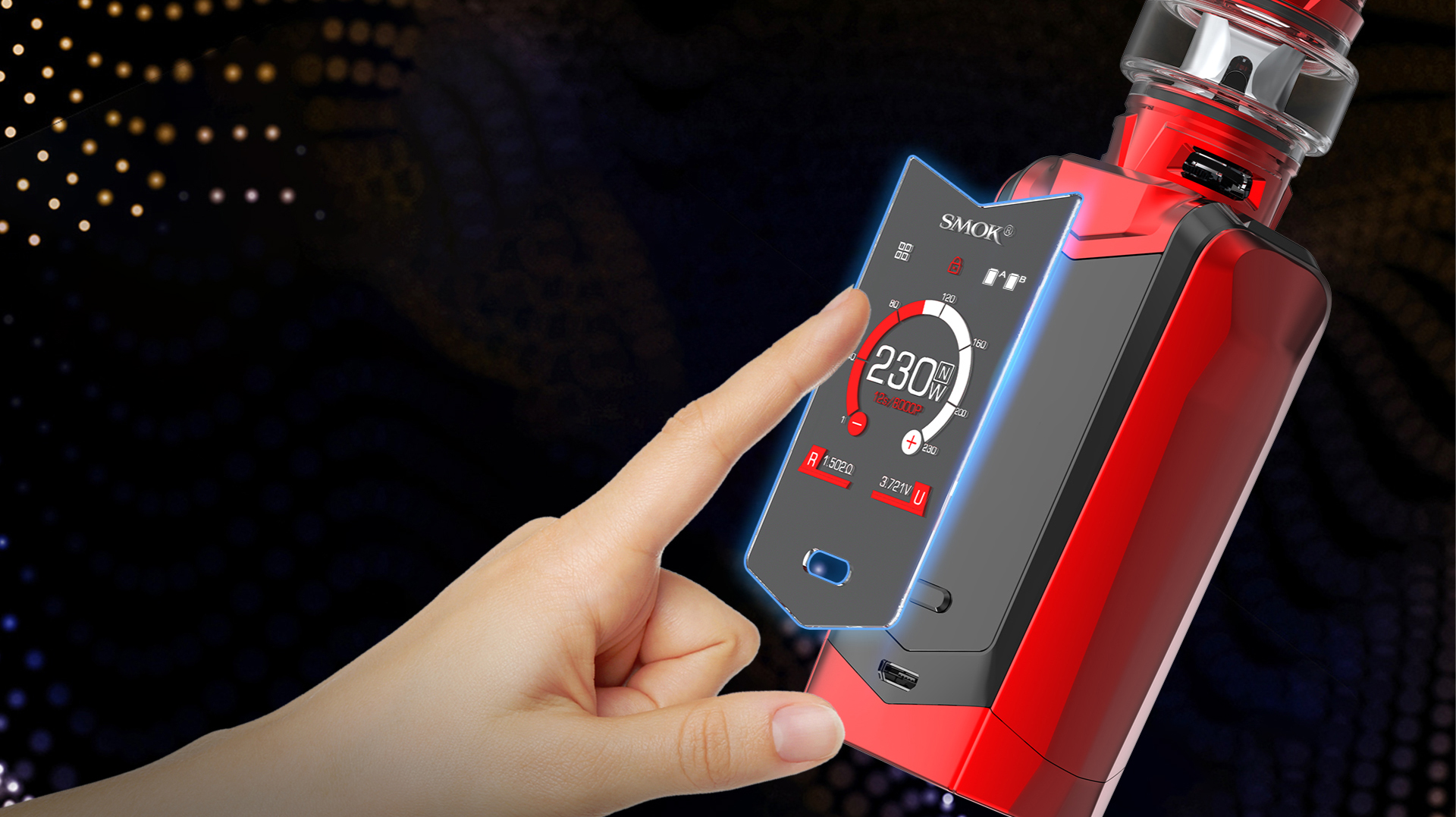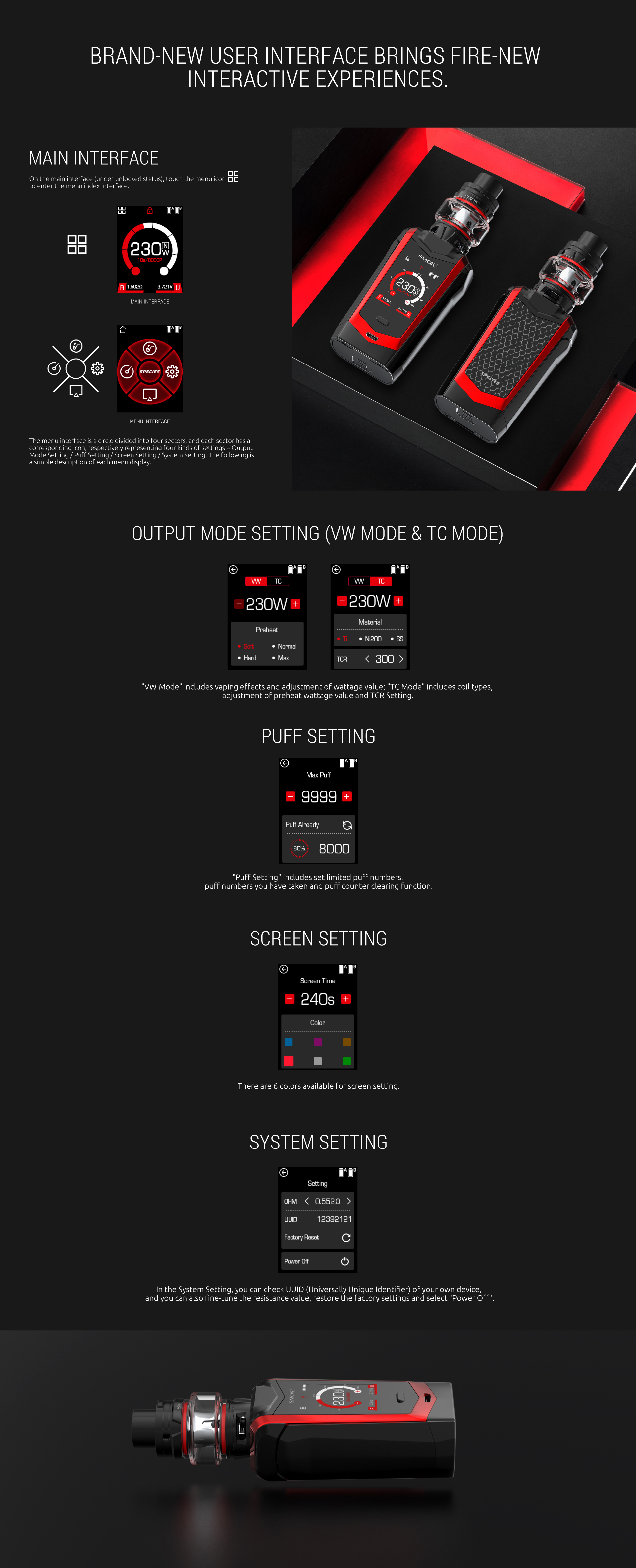 INDEPENDENT SCREEN LOCKING BUTTON

LOCK/UNLOCK WITH JUST ONE BUTTON
The independent screen locking button is located at the bottom of the touch screen, which is in an obvious position and is convenient to operate. Screen locking button makes locking/unlocking (at the state of power on) the screen simple and secure. If you want to perform the interface operation, you need to first unlock the Fire Key, and then long press the screen locking button to unlock the touch function. Everything is under your fingertips.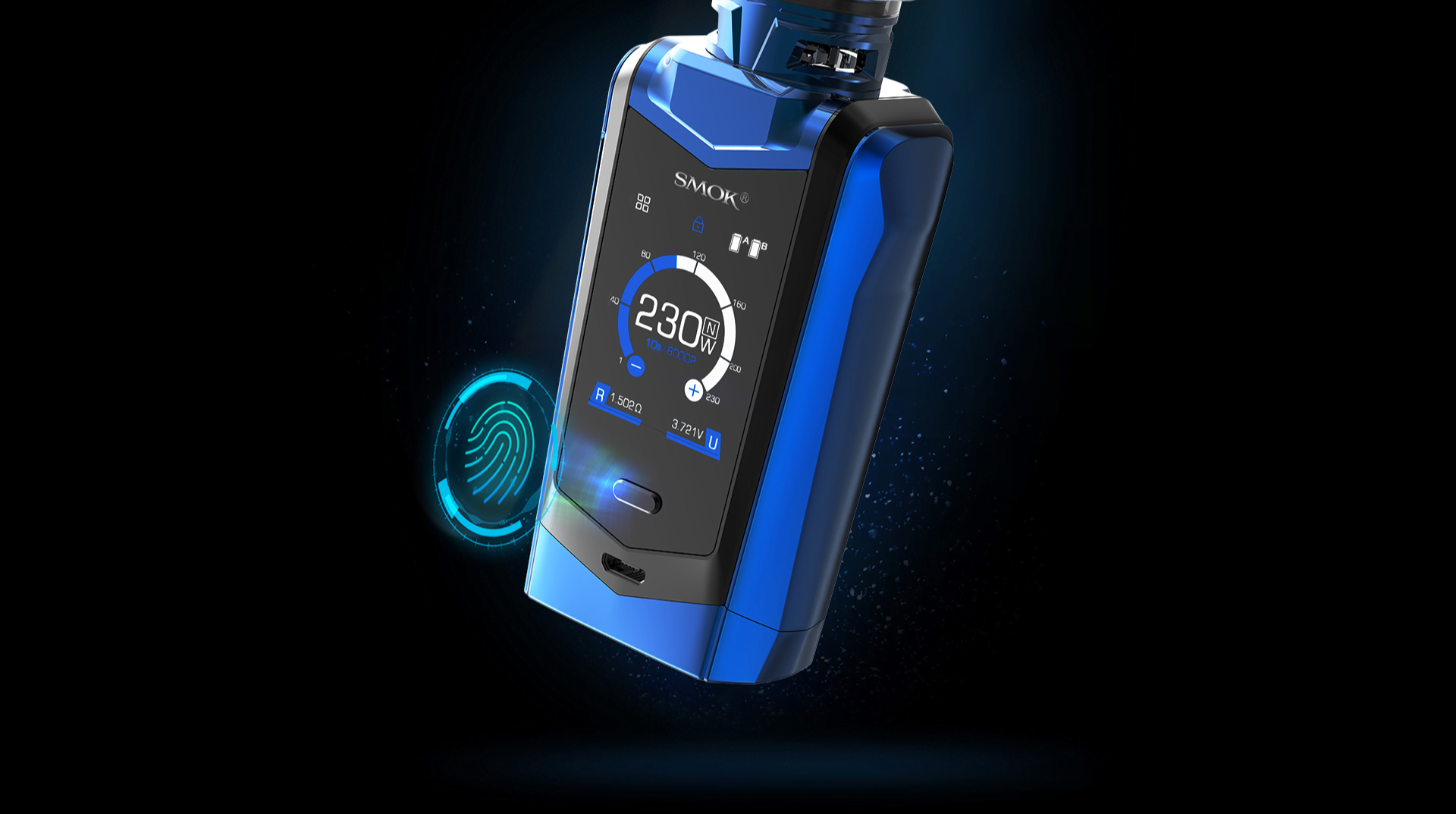 SPECIFICATIONS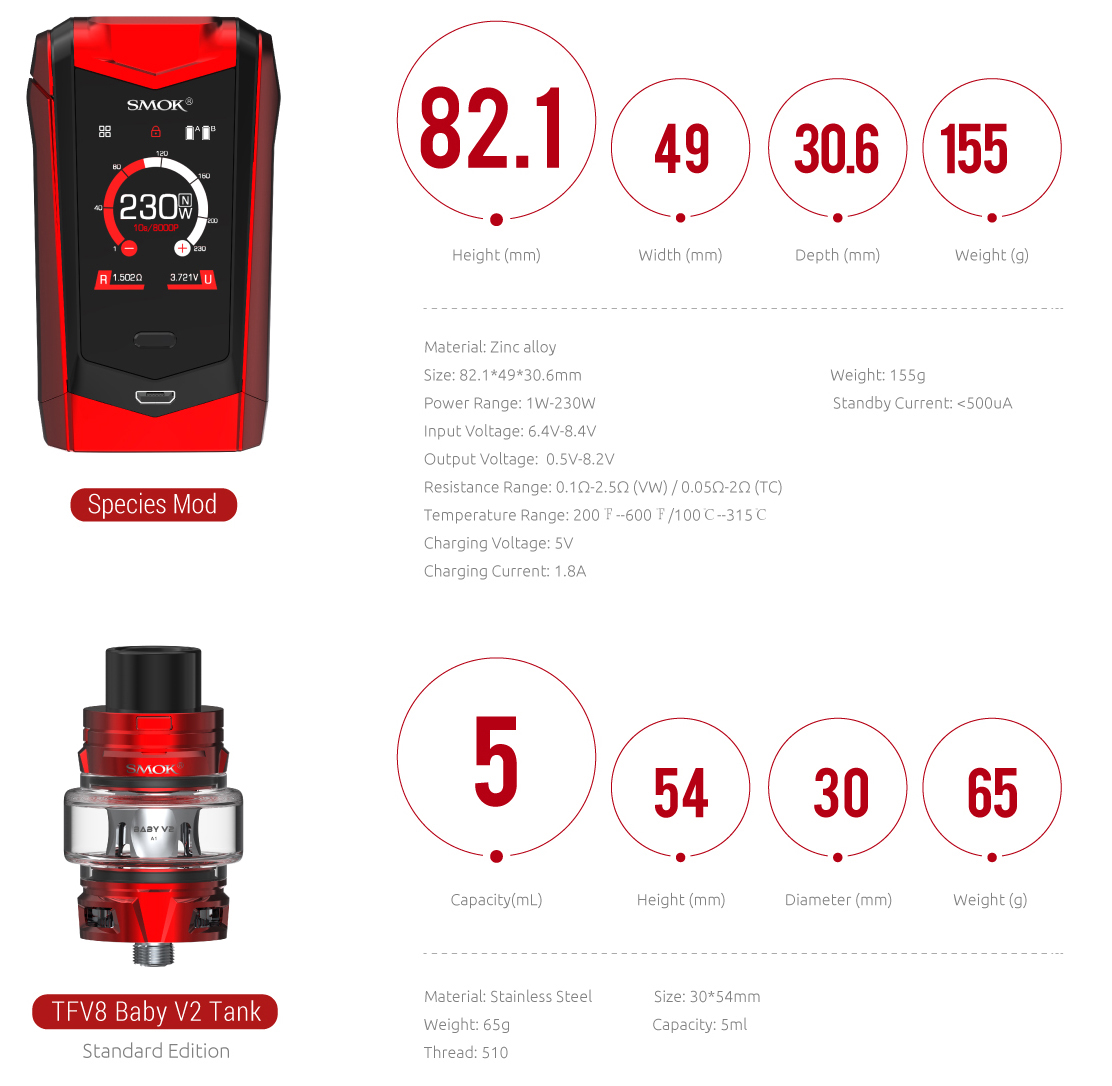 230W OUTPUT POWERED BY 2x18650 BATTERY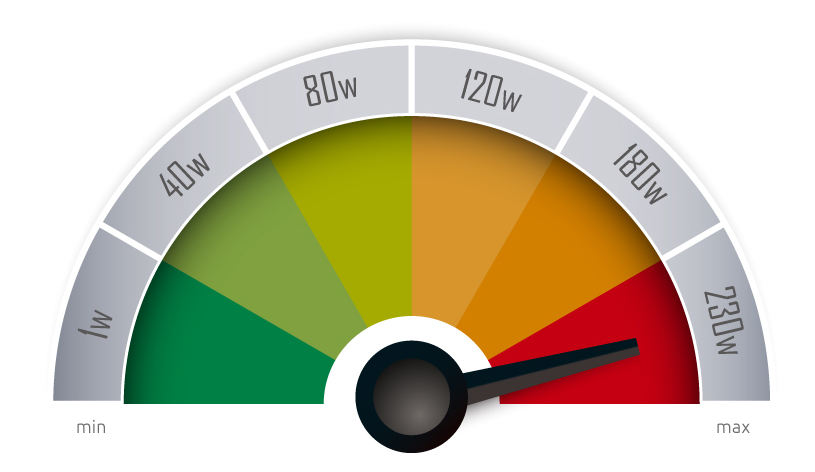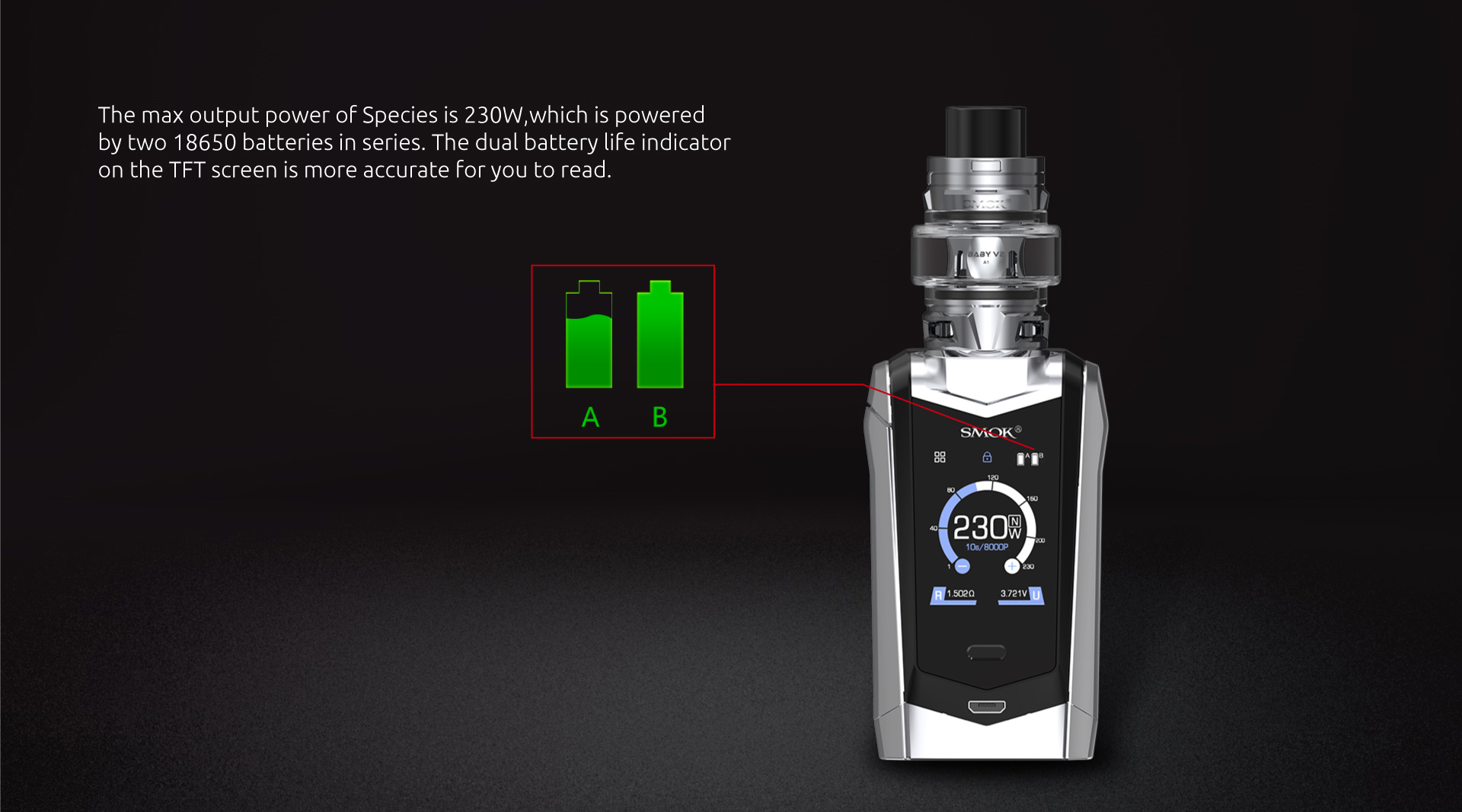 BATTERY INSTALLATION
1) Slide and open the battery cover as the picture shows;
2) Place the batteries into device according to the correct directions;
3) Close the battery cover.

MULTIPLE PROTECTIONS

Species provides multiple types of protections to avoid potential risks.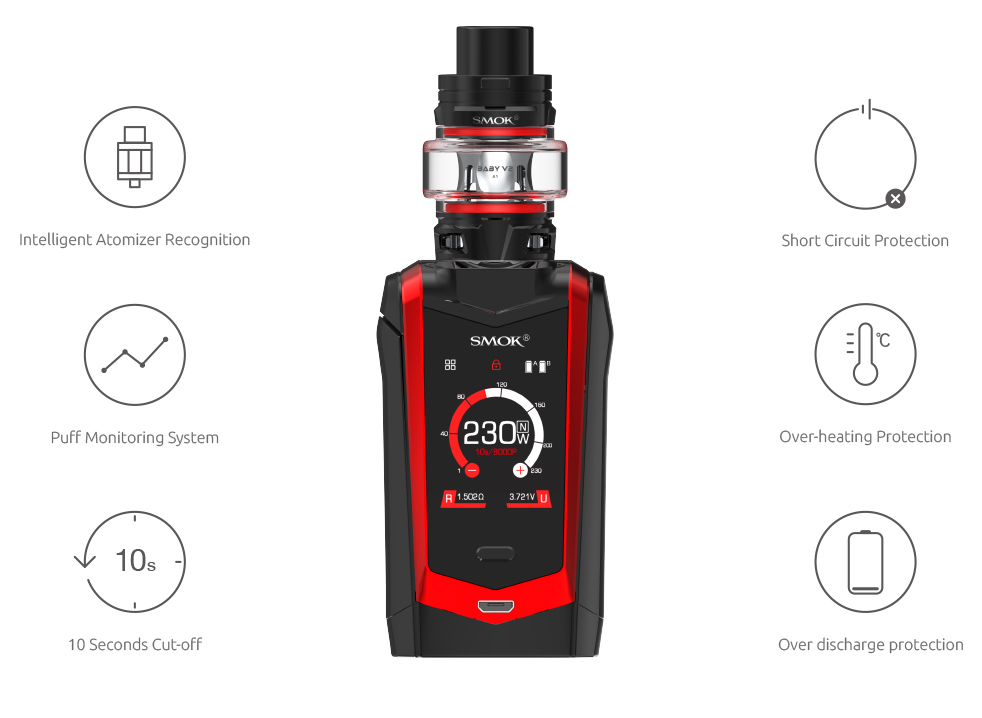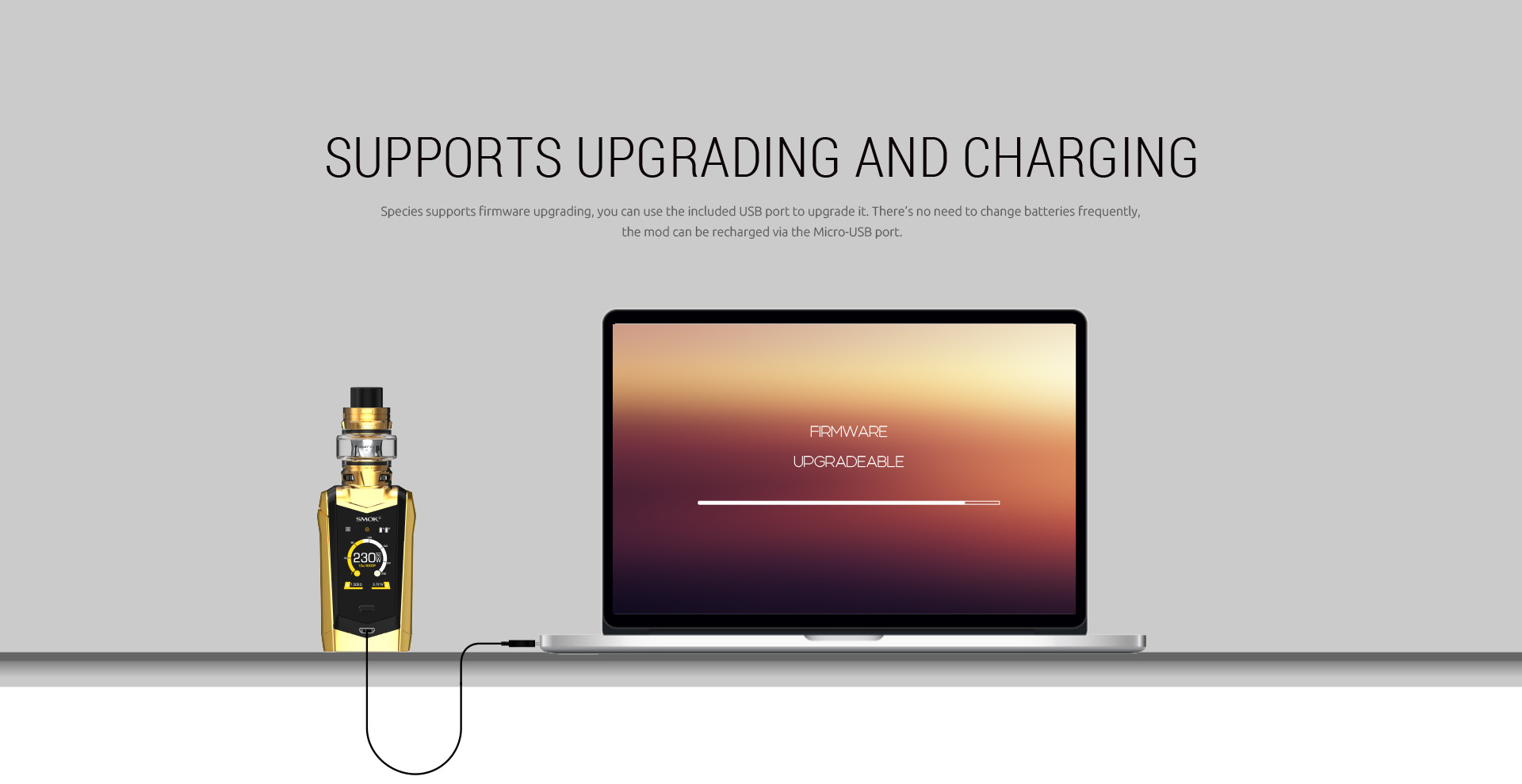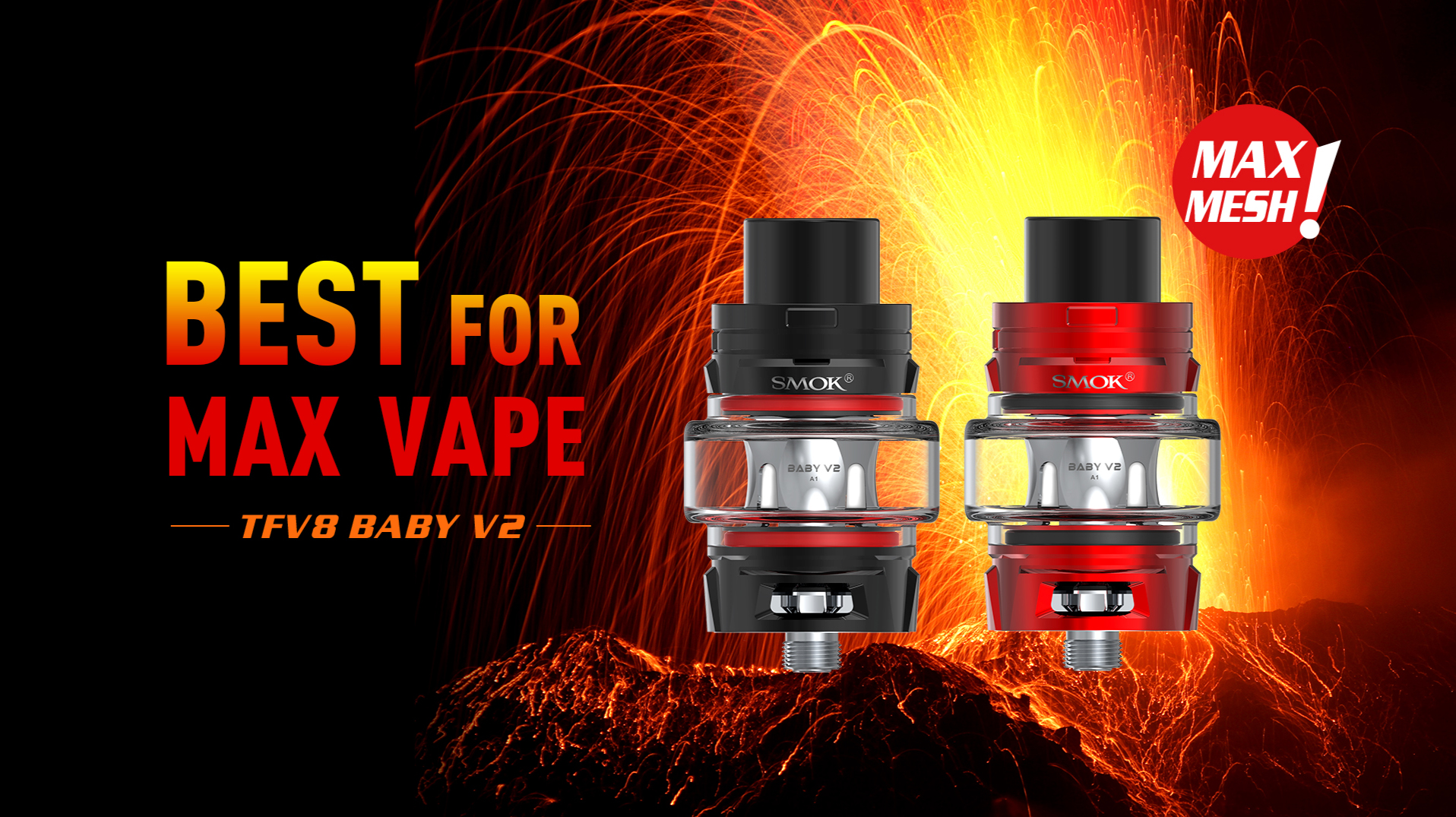 BABY V2 COIL FAMILY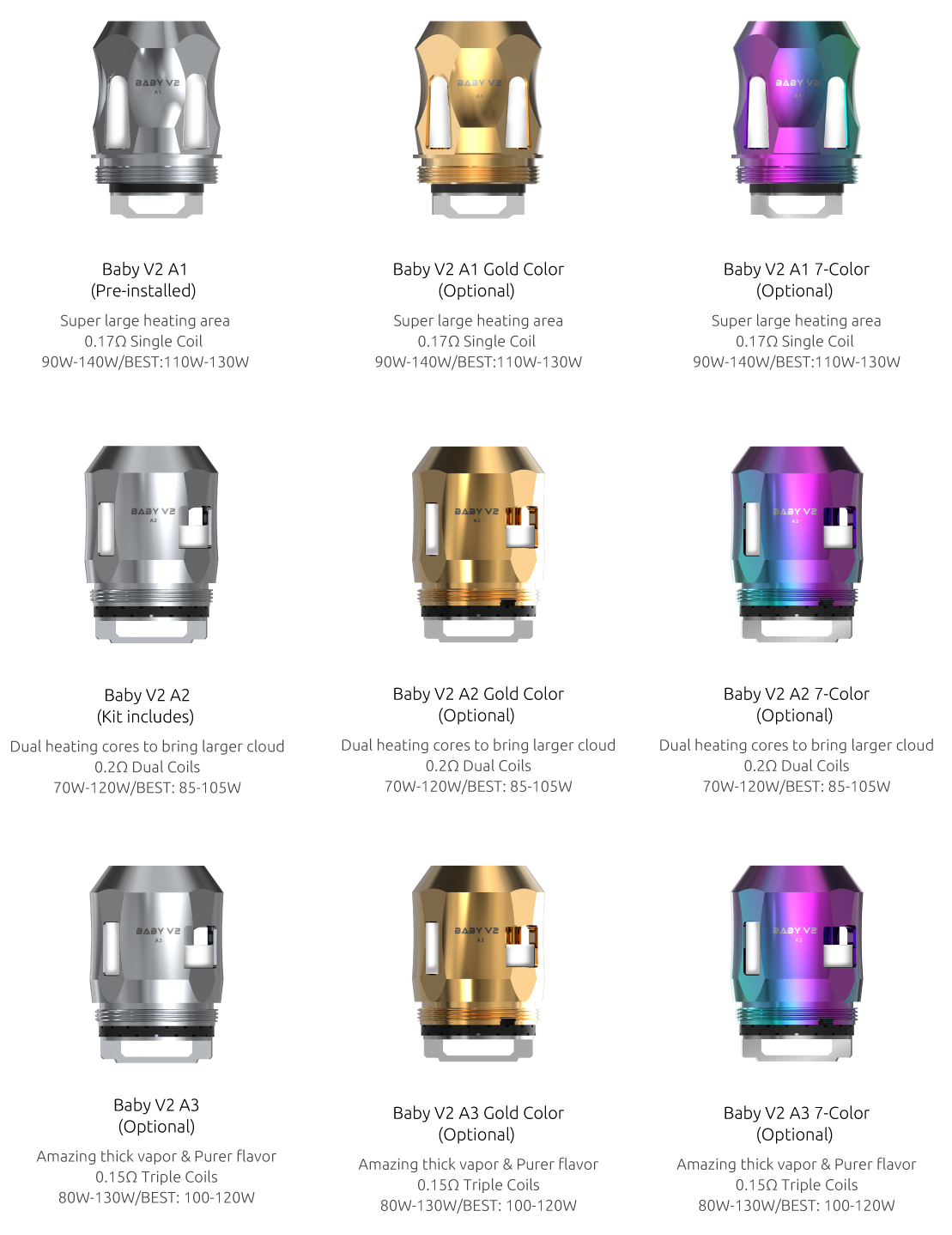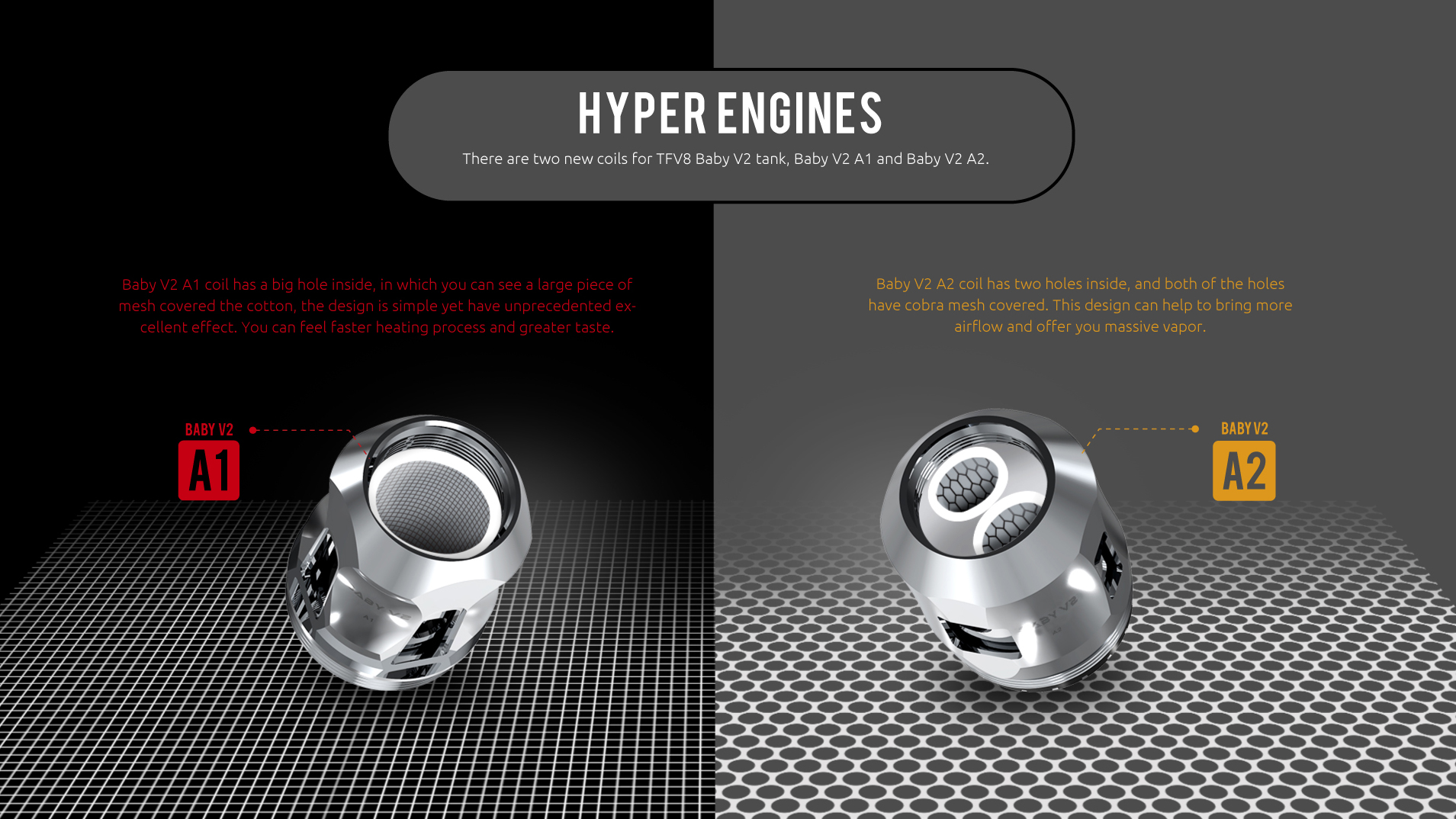 BABY V2 A3
A3 has three separate heating coils inside, combining with 3 larger airflow slots at the bottom of the tank, more air can be straightly brought in,
and when you fire to vape, three coils will heat simultaneously, which can bring you unprecedented huge & thick vapor!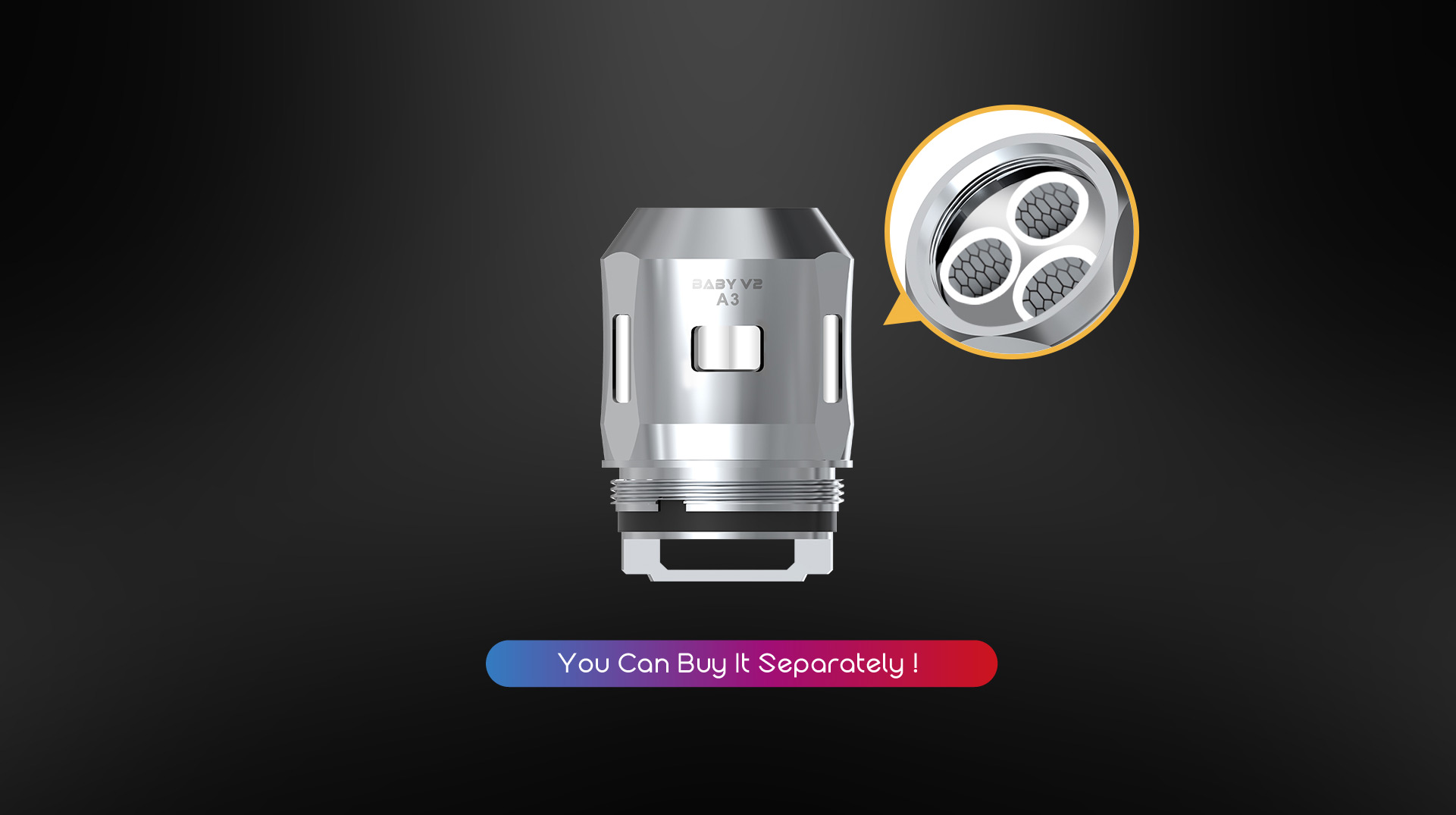 16MM V2 BABY EXCLUSIVE DELRIN DRIP TIP
Cells
Cells
2x 18650
Coil Type
Coil Type
Stock Replacement Coils
Features
Features
Temperature Control
Juice Capacity
Juice Capacity
2.0ml
Mod Type
Mod Type
Box Shape
Tank Type
Tank Type
SubOhm Tank
Wattage
Watts
230W